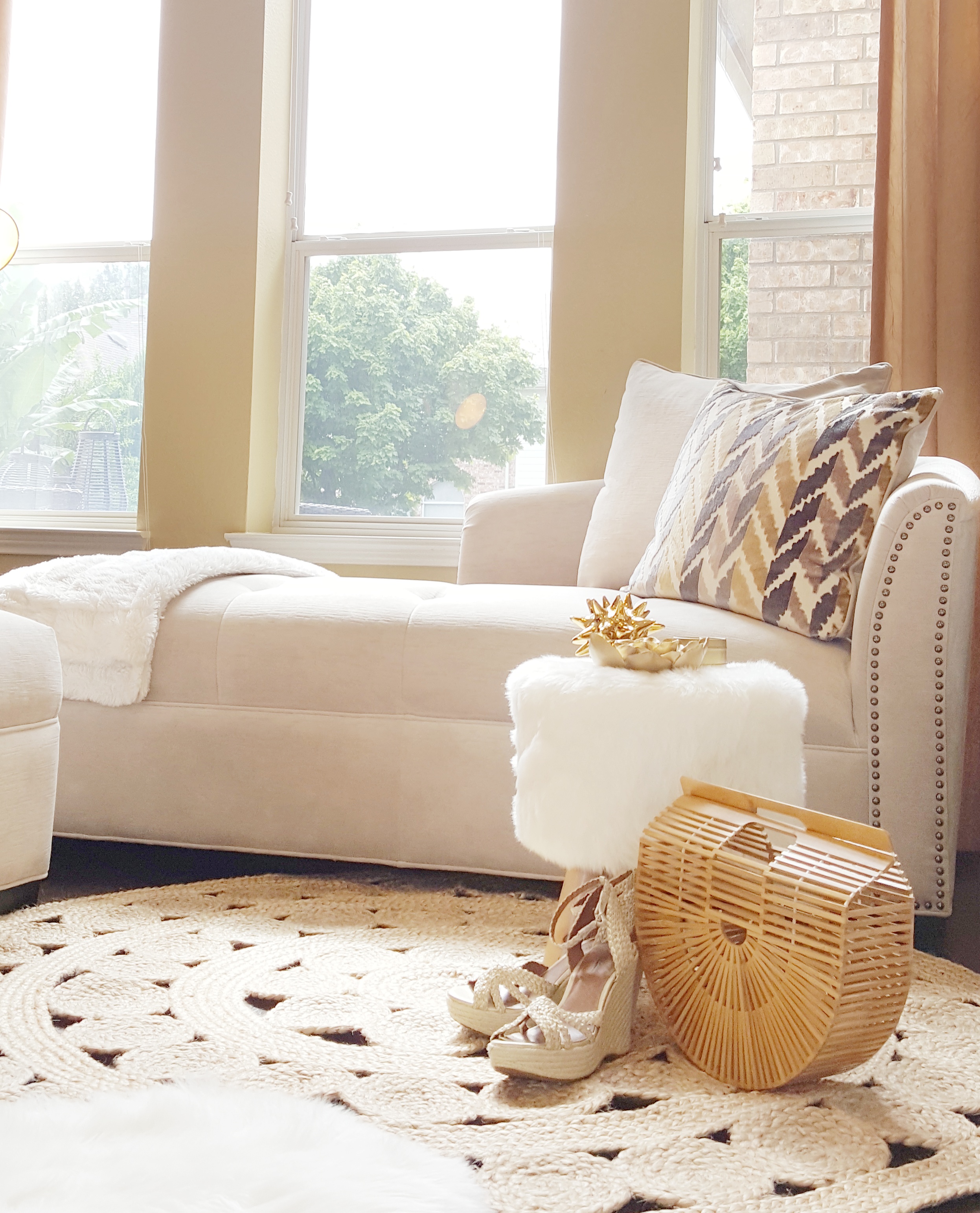 Happy Thursday!
I am SO excited to share my family room with you! Its been a couple years since we replaced our living room floors from carpet to hardwood, and since then I've been looking for a perfect area rug for this room. Our living room has so many different angles, so finding the right area rug was quite challenging.
After 2 long years of wait, I finally have this 'eclectic natural hand braided Scandinavian' design area jute rug. Its the perfect  shape for our room and has fabulous texture, pattern & an easy-going vibe. Sernena & Lily  has done such an amazing job with the quality- the jute rug is not at all harsh feeling for the skin. My kids adores this rug. It can easily be rolled and comes with a handy plastic rug sleeve, which is ideal for moving, storage (and in case of a return).
We spend so much time in our family room, so I wanted it to be a comfortable space where everyone could hang out! The family room being right off the kitchen, I knew I wanted to keep the design style chic and timeless, but with an edge! Now our family room looks complete with Serena & Lily jute rug and I am seriously obsessed with every single detail!
For those who are unaware of Serena & Lily brand, it is a home and lifestyle brand based in California and is  known for its Patterns, and textiles. Their retail locations are Hamptons Beach Market, San Francisco Design Shop, Los Angeles Design, Westport Design Shop, Newport Beach Design Shop and have been featured by several Magazines such as Verenda, Luxe, Domino, and many more.. They have a great selection of home decor, furniture, upholstery, rugs, kidshop, outdoor furniture and accessories available in variety of options to choose from..
Serena & Lily is offering 15% off to all my sweet followers, so you can purchase their eclectic pieces for your home with the code 'RUGLOVE-AVANI' !!! View their collection here and start shopping now!
XO, Avani
Thank you Serena & Lily for Sponsoring today's post!